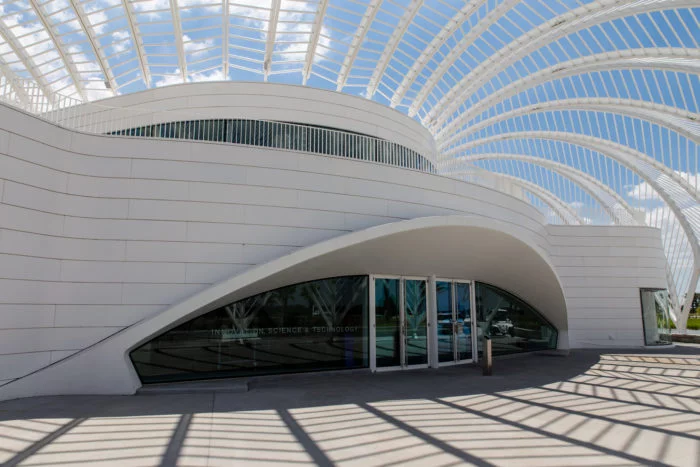 In only a few years Florida Polytechnic University has established a name for itself as a university focusing on solving industry problems through creative solutions. Their advanced fields of science, technology, engineering and mathematics (STEM) attract innovative thinking students from different places.
Florida Polytechnic University is located along Interstate 4 at the heart of Florida's High-Tech Corridor in the city of Lakeland, halfway between Tampa and Orlando.
Like its name implies, Lakeland is known for its waterfront neighborhoods and more than 60 miles of biking and walking trails. The city has a vibrant downtown filled with shops, restaurants, parks and performing arts venues. Check out Evolution Records, an indie vinyl seller and live music venue. Hang out with friends or study at Black & Brew Coffee House on Main Street. Get outdoors for a spin at the new Lake Bonny Skate Park. You don't want to miss out on a visit to Reececliff either for a slice of pie and other homemade foods! Festivals, parades, concerts, a big farmer's market and food truck rallies are hallmarks of Lakeland culture, as are the giant swans you'll see gliding on city lakes. They are descendants of swans given to the city by Queen Elizabeth II.
Lakeland also is the spring training home of the Detroit Tigers. In February or March, you can catch a classic outdoor game at Joker Marchant Stadium. The average high in February is a comfortable 73 degrees.
Another benefit of attending college in Lakeland, FL is its location. Less than an hour's drive away in either direction are the metropolitan areas of Tampa and Orlando, home to a combined total of 8.6 million people and more than 11,500 high-tech companies. Both cities draw visitors from around the world to theme parks, beaches, stadiums and entertainment venues. Disney World, Universal Studios, Busch Gardens, Cocoa Beach and Clearwater Beach are among the options for day trips or weekend getaways. The two cities host a lot of Major League action, too, including the NFL, NBA, NHL and MLB.